PRADA A/W 1993

by Alyssa Schleger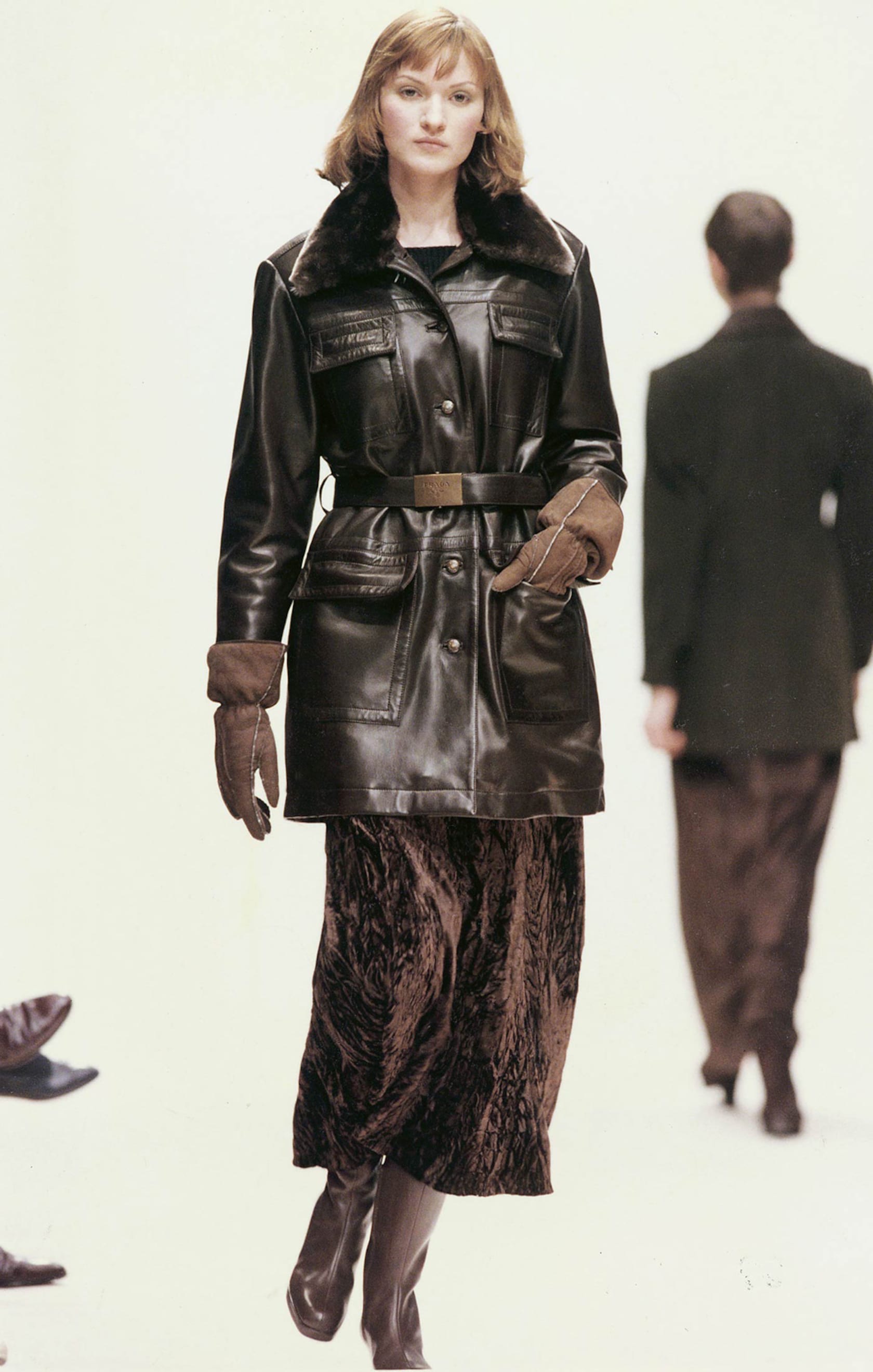 Earthy, feminine witchy; somewhere between hippie glam meets Victorian mourning. Dusted with deep rust orange-browns and hues of fallen leaves, soft silhouettes filled the room in Paris of 1993 as Muccia Prada presented her collection for Autumn/Winter 1993-1994. Scarves wrapped around the neck and pulled tight around the torso accentuated waistlines. Elfin pixies graced the runway with fur lined knitwear, belted boho chic billowing chiffons, and calf-consuming knee high boots.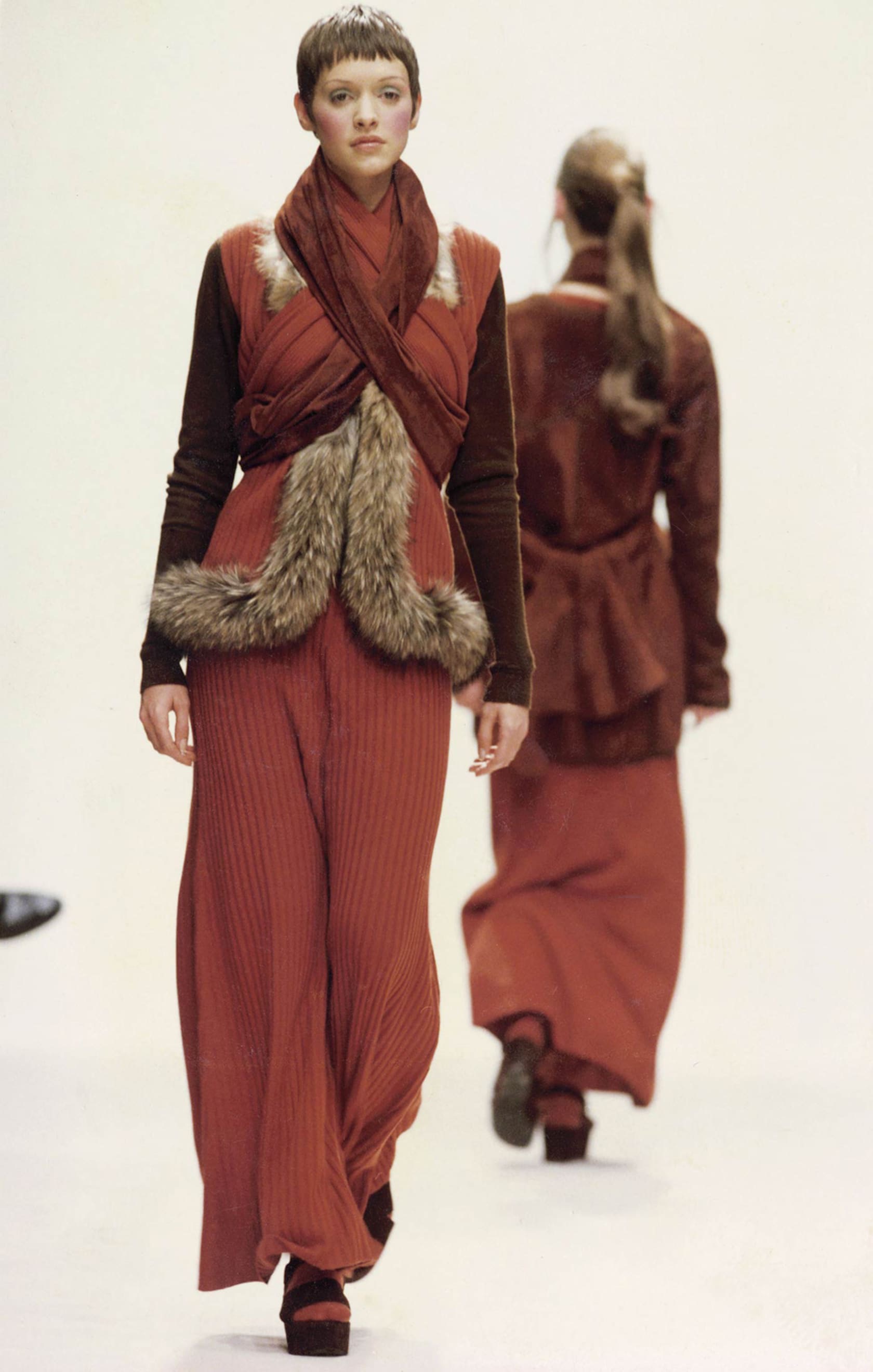 Included in this parade was an elegant velvet coat with chiffon layerings popping atop collars. Evermore, there were elongated silhouettes, monochromatic in nature with pops of texture. Think thickly belted coats, vests and knits. Maxi skirts matching hues with blazers and trenches added to the illusionary elongated extensions of seemingly never-ending fabrics.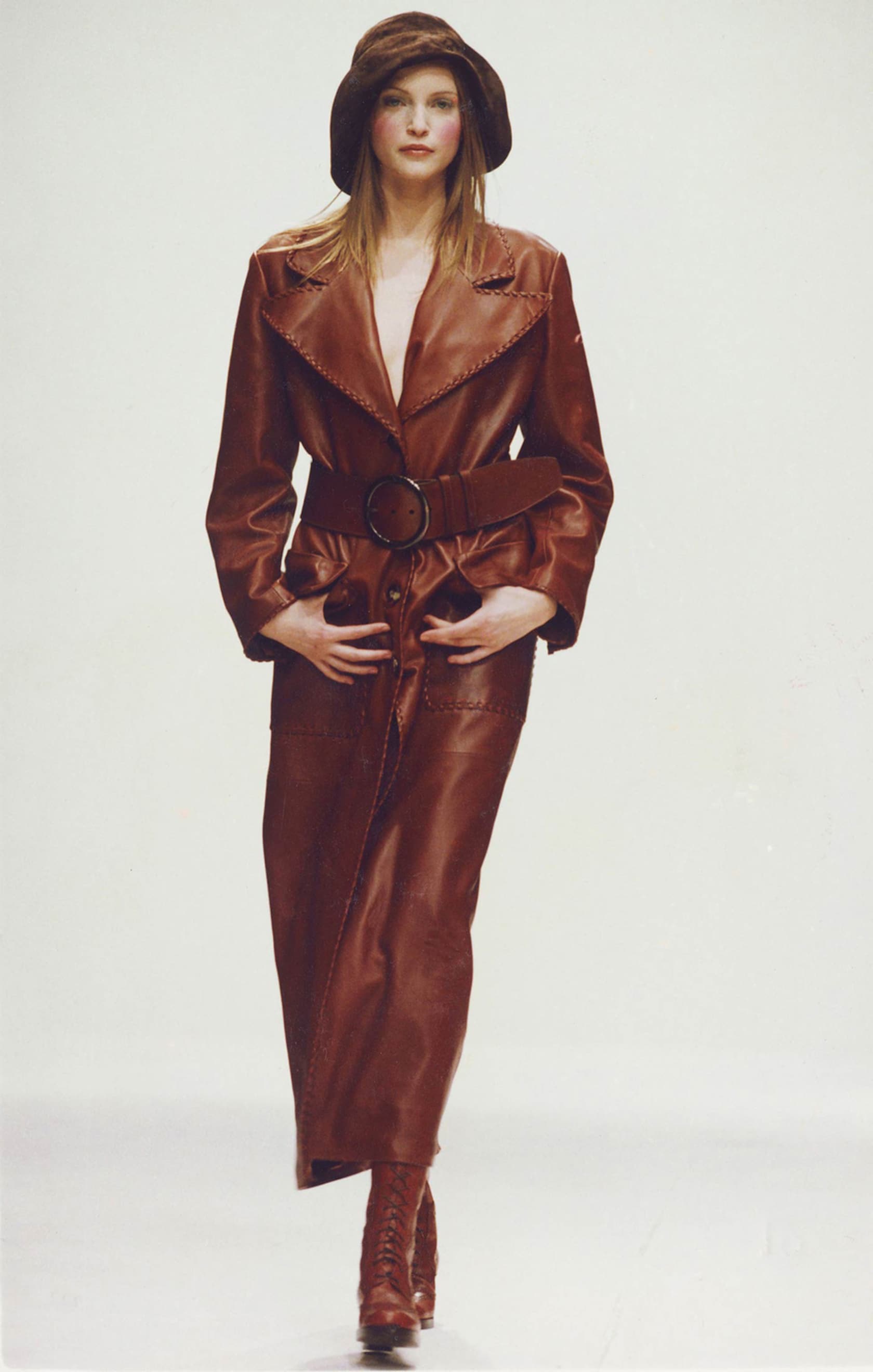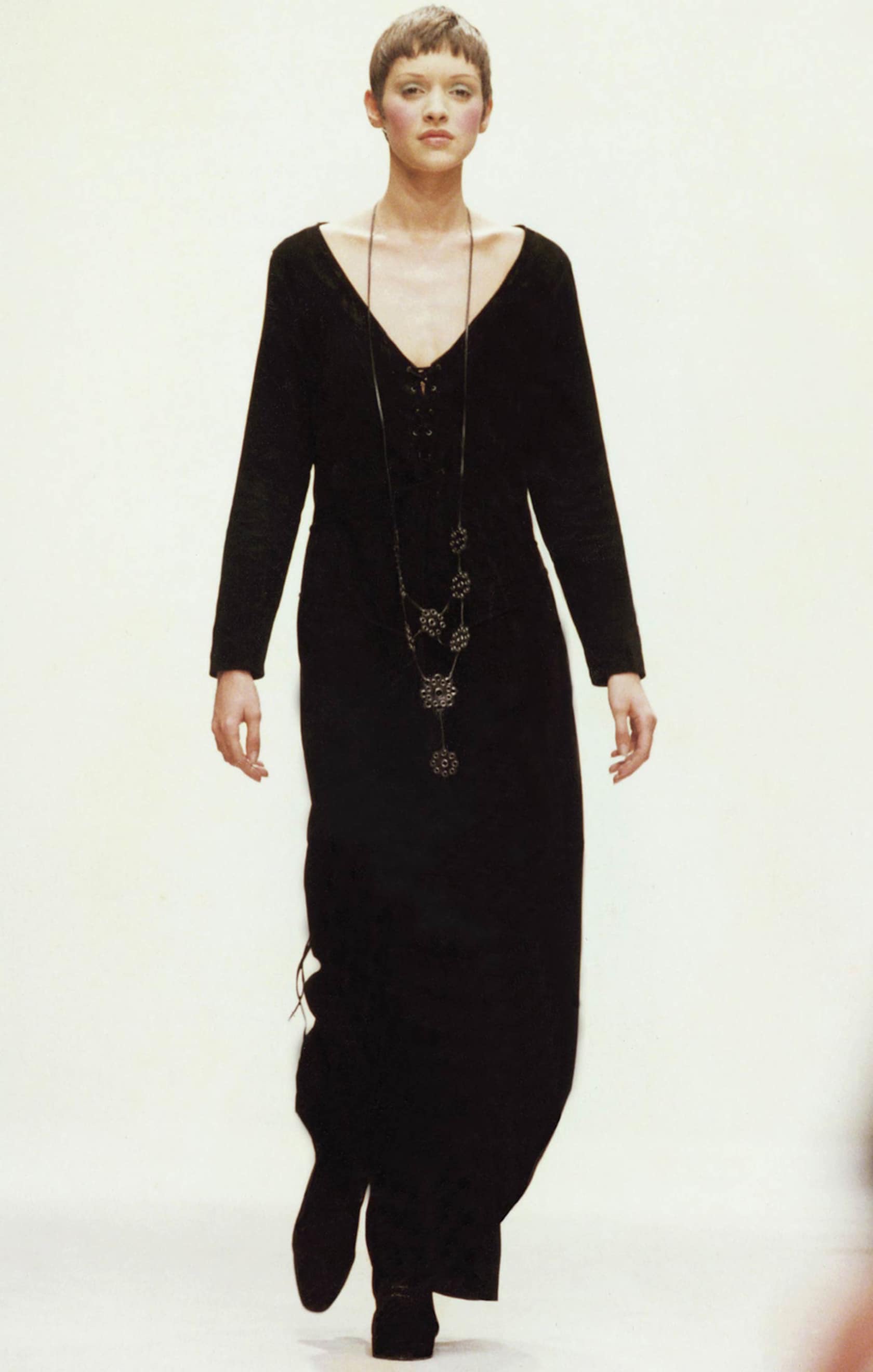 Illusions continued down the runway as the lines were blurred between what was a dress of single fabric and what was a two piece co-ord. Between this and the witchy nature induced by black velvets, flared sleeves, and long, thin leather necklaces dropping below the waist, there were also extreme frilled ruffle bottom drop-waist maxi skirts contrasting from under the bottoms of trench coats.
Then came a crop top layered over a long sleeve and tucked into a utilitarian trouser. With co-ord suits and corsets, layering was emphasised. Perhaps the most eye-catching accessory of the show were the gloves, oversized and draped beautifully up the wrists. Billowy pouf roll up bucket hats were given a stage on the runway along with clowny caplet-esque collars popped off the shoulders of coats. Velvets and layers acted as a second skin, as there was little scandal in the cuts of the garments. Staying covered from the street chill was the name of the game for the season.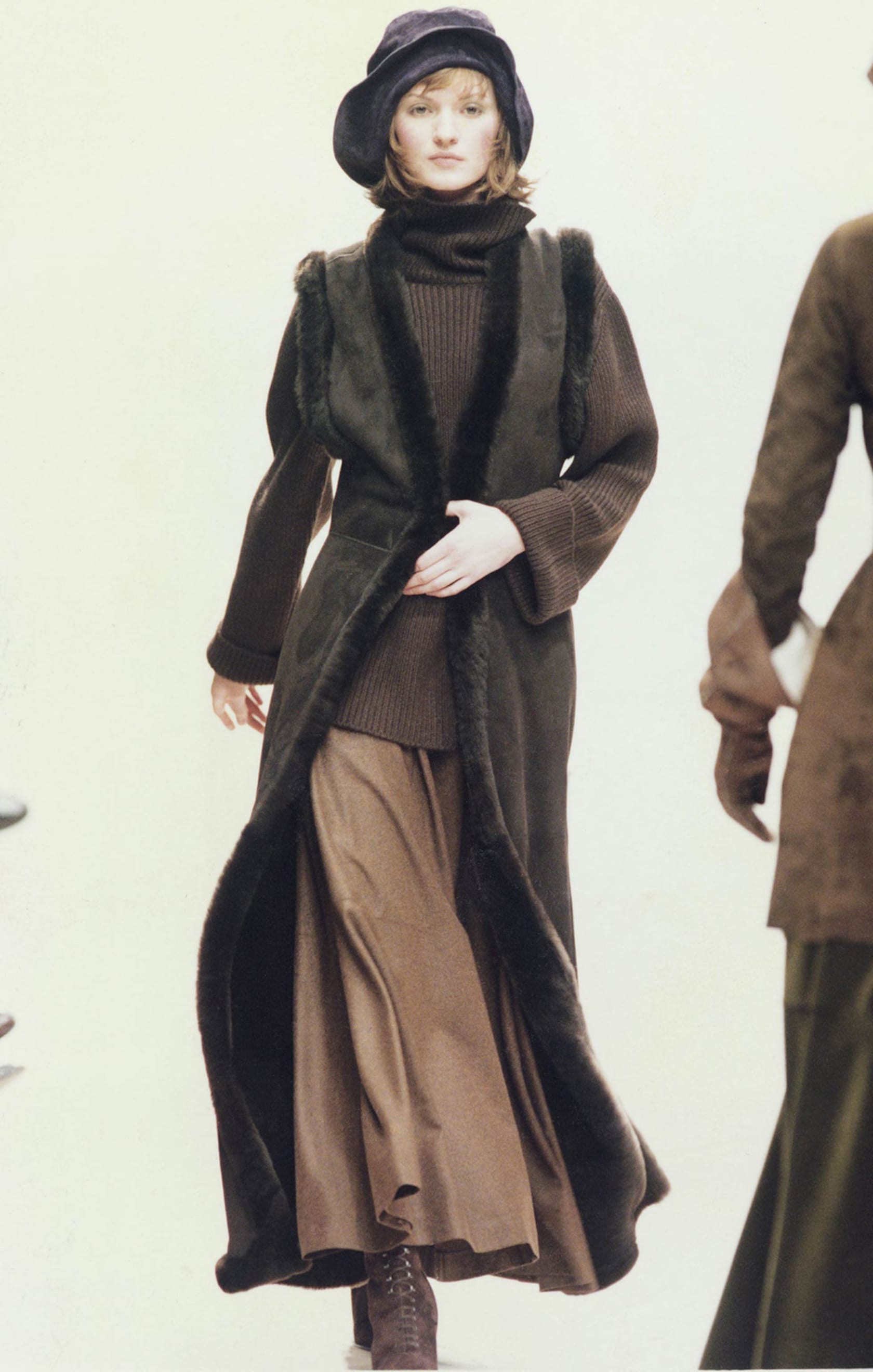 Shiny waxed leathers assisted in tying together the contrasting glow of soft-diva and glam rock which were ever-present throughout the collection.
In light of the bombing of the World Trade Center on 26 February 1993, this collection can be seen to have reflected the sentiment of city dwellers in a time of turmoil, fear, and mourning. Grunge rock hit its apex in these times, as Nirvana released In Utero. Dark lips and thin brows were spotted throughout runways and streets alike.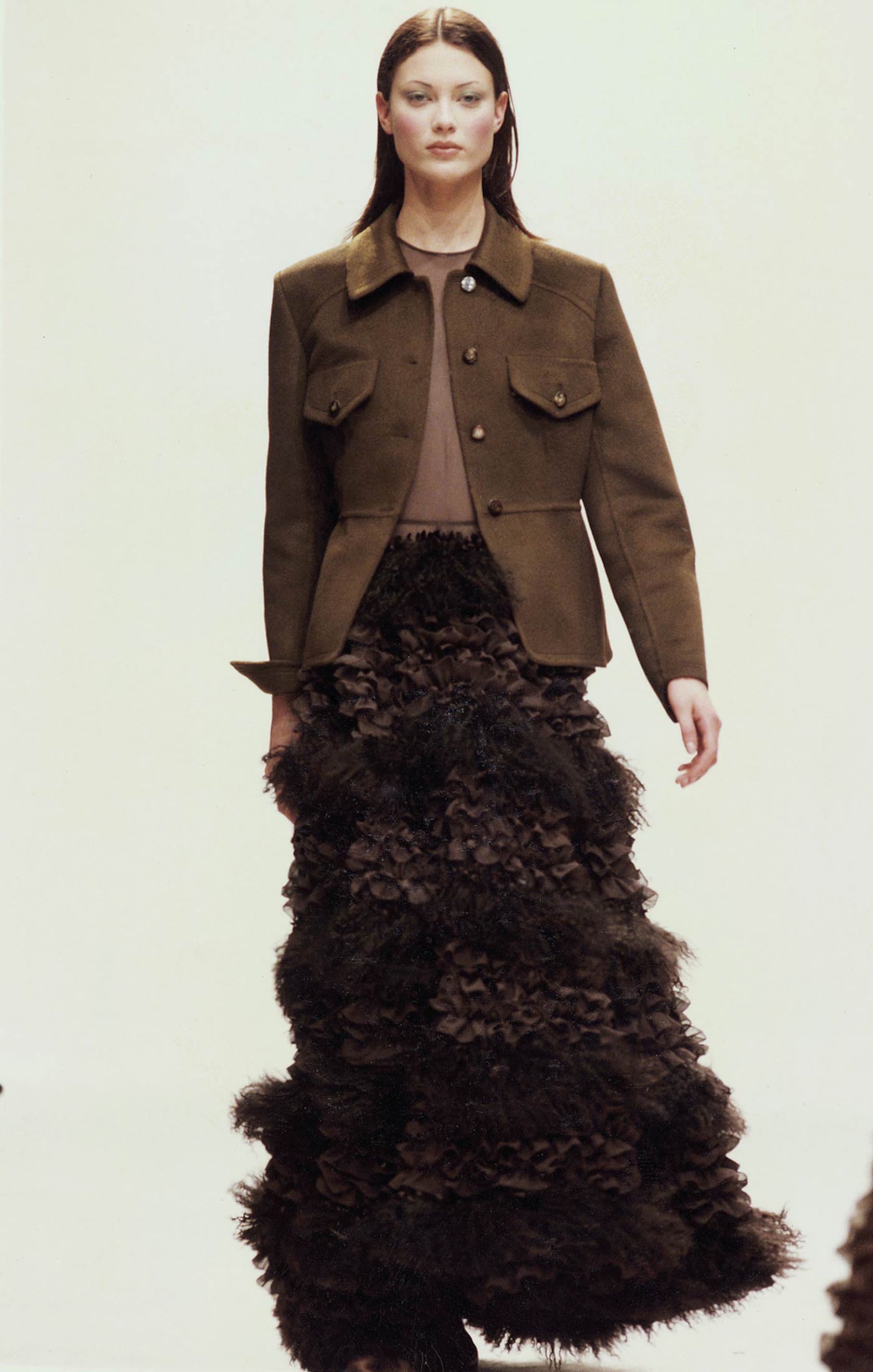 In March of 1993, Amy M. Spindler wrote, "For the most part this season, fashion here has been tailor-made for the MTV generation- young people with short attention spans... One editor here called Prada 'haute hobo,' and it's difficult to say whether that was a compliment or an insult... [Muccia] has brought the message of the street to a city where leather is the holy testament of design."